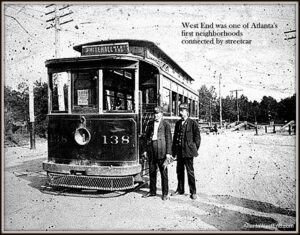 When the Blank Foundation and the Cathy Foundation come together in Georgia, you know it's probably a big deal.  Or, at least I thought so and didn't hesitate to pull up a seat at the table.  For those readers outside of Atlanta (or even for a few inside) the two foundations have come together to redevelop the West End.  Do not be confused.  This is not what is currently referred to as the "Westside", or "West Midtown", or even the one I love the most- "West Buckhead".  No.  That area is chic, has a hot real estate market, and tons of young families moving into the area.  No, this is the West End- Atlanta Metropolitan Parkway, the Salvation Army College area, Adair Park.  This is where city streets converge in strange curves at Northside Drive and Joseph E. Lowery Boulevard behind the World Congress Center.
While attending a fancy-schmancy dinner a while back, I ran into a high school friend, who sits on the board of a local non-profit located within the West End (bearingsbikeshop.org).  I had heard a bit of buzz about this area, and know of a few folks who've recently moved there as the housing prices are much more affordable.  I learned at this fancy pants dinner that the Cathy Foundation and Blank Foundation were coming together to revitalize it by investing in the already existing nonprofits and community centers there.  I was curious. 
I am always suspicious of these revitalization efforts as I find many of them are "business development" areas for new gas stations rather than grocery stores, and pay day lending sharks rather than reputable banks.  Yet knowing both foundations are more focused on the development of people rather than real estate, I asked if there might be a way we could contribute.  I say "we" because I volunteer within the Junior League of Atlanta, Inc., who focuses their work on impacting the Atlanta community in the areas of commercial sexual exploitation/ human trafficking, generational poverty, and early childhood education.  Our 3,300 members pack a fair amount of punch in the areas of direct service, board placement for nonprofits, and (my favorite, of course) advocacy.  I asked to meet with both foundations and received an invitation from the Cathy Foundation to a Business Breakfast, hosted at City of Refuge (cityofrefugeatl.org).
In the room were representatives from the Mayor's Office, Director of Sustainability, Stephanie Stuckey-Benfield, Councilman Ivory Young, Jr., Habitat International, Liz Blake, Invest Atlanta, Atlanta Housing Authority, Atlanta Urban League, and the list continues.  The presentation offered by The Westside Future Fund (westsidefuturefund.org) to the group assembled was one that highlighted the hopes of the organizations present and served as a beginning point for conversation within the community.   It is a thirty million dollar investment initiative in the areas of Castleberry Hill, English Avenue, and Vine City.  While this presentation was informative, essential, and helpful, the most shocking piece to me in the privilege of my naiveté, was the map of the area.
You see, the map fully illustrated how the area was literally cut off from the rest of the City of Atlanta.
By intention or by consequence, the West End has had the streets that lead into it and out of it dwindle over the years so that there are literally less connection points to the rest of the city around it.  This may seem small initially, but over time, it has larger ramifications.  Why would any new residents move to an area that takes you thirty minutes to leave in high traffic times?  Why would a business move to a location that requires more travel time in delivering or receiving goods?  How can a larger grocery store set up shop when it cannot mitigate the traffic cluster it would create from its parking lot feeding onto skinny roads?  Transportation in this area has dwindled so that it has influenced the real estate market, business development, and created food desserts.
Now do not misunderstand- the trials of crime, blight, and derelict buildings are not solely a result of transportation challenges.  Yet, I wonder how much could be addressed by changing this one aspect?  I also wonder what these neighborhoods looked like before the connector and downtown Atlanta development impacted its roads.  I can only see it for what it is now, and look forward to seeing what it will become, as new residents literally pioneer new paths into the area.
To follow along with the development and to get updates, you can sign up for their emails here.  The next meeting is coming up in a few weeks.  I hope to see new faces there with sleeves rolled up and with a plan to open the roads of opportunity to the West End, as an equal part of the city that is too busy to hate.