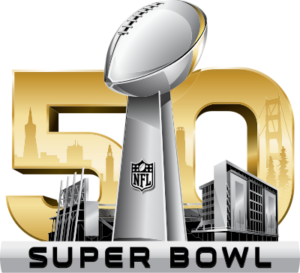 So there was a little football game this past weekend.  Not sure if you caught it, but in the midst of the pigskin throwing, the millions of dollars in ad buys and the simple joy of watching Peyton Manning win again, there was a little political statement made by a couple of ladies in unexpected ways.
For beginners, Lady Gaga, who is known for her outlandish costumes, audacious lyrics, and unwavering support of the LGBT community gave an outstanding rendition of our nation's anthem.  She stood (all 5'1") in a simple yet sparkly pantsuit and sang her heart out in a performance that brought many unexpectedly to tears.  She was the picture of modern grace and patriotic pride in her red pantsuit (reminiscent of a certain female Presidential candidate) and simple stud earrings.  Her eye makeup, nail color and shoes were the only hints of stepping out of line with the outfit otherwise à la Jackie O with a modern twist.  The element of surprise here was not then what she was wearing, but how powerful her voice and presence is without adornment.  Implicitly, this nation building moment also highlights the changes in the country since we last gathered for this game- the SCOTUS ruling of marriage equality.
Maybe it was just a song, or maybe this was a platform for a much larger statement on how we define ourselves as Americans.
Even more engaging to me though was the presence of Beyoncé, or Queen Bey, as she is affectionately known by her fans.  Her dress and dance were political statements, no doubt.  There has been a great deal of debate around them on social media, and so I had to delve a little deeper myself into her lyrics and her new song, "Formation".
What I found was inspirational not simply as a woman, but as a Southerner.  Beyoncé references her Southern heritage in repeated lyrics:
"My daddy Alabama, Momma Louisiana. You mix that Negro with that Creole make a Texas bamma."
"Earned all this money but they never take the country out me."
"I got hot sauce in my bag, swag."
"I like cornbreads and collard greens, bitch."
Perhaps I stand alone, but humble roots, appreciation for collards and the ability to add spice to anything are some traits to which this Southern girl can DEFINITELY relate.
Look again though, at the streets of New Orleans, the dystopia she demonstrates of the South. Note though, that because of the language the video below is NSFW.
The images Beyoncé chose to use in her music video are those that represent the South in a very truthful way, if hard to see.  While many of us idealize the images of plantations (clearly yours-truly uses the image of Scarlet O'Hara as a screen image), ladies in lace and hand-held fans, I appreciate that Beyoncé demonstrated these images with a twist- braids, natural hair, a single black woman drowning on top of a police car in flooded New Orleans, and a defiantly dancing little hooded boy in front of a line of police.
Oh, this is political- definitely.  And the Queen brought her A game. 
No matter where one lives in the South, at any given time we are all linked in some way to how one another are treated- based on our complex identities of race, sexual orientation, and class.  For a really long time down here, we just did NOT talk about race, religion, and politics in the South.  Not at the table, not in public, and certainly not in policy.  But when the message in the video, spray painted and scrawled across a house flashes across the screen with the message, "Stop shooting us," one cannot look away without a new awareness.
The times, they are a' changin' and looks like the new drum beat follows a few ladies who are just as graceful and gracious as they are powerful while welcoming you to the largest TV event in the nation.
"Always stay gracious, best revenge is your paper."- Beyoncé