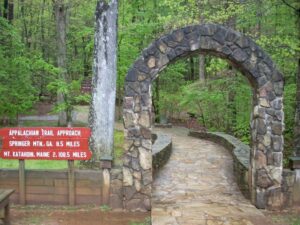 I have had the pleasure of travelling around the Southland a bit lately.  Although I reside in the city of Atlanta, my favorite spot to get away is ALWAYS in the mountains-Georgia or North Carolina; does NOT matter.  Wherever the pine trees are in abundance and the paved roads are not is where I wish to be.  Cooler temperatures and rolling landscapes abound and the elevation of certain points allows me to indulge and get lost metaphorically in my own thoughts.  However, I recently became actually lost-as in could not find my path back to the beginning of the trail.  It's a very different feeling when one is truly lost- the disorientation, the heat of the midday sun beating down, and my body already tired from the hike I had originally set out on, never expecting to cover this many miles or take THAT much time.
Clearly I made it back, but as I was climbing over hills and dodging the brambles in my unorthodox path, I thought much of how this could have been prevented.  Where were the colored blazes marking the path?  Why have the trails not been tended so that the vegetation did not cover my previous steps?  I walked back over the same path many times in hopes of finding the switchback I missed, or the small bridge I had crossed.  The path was there, I had simply forgotten its image and location.  And in my foolhardy arrogance, I had not adequately prepared for if something went wrong.
Amateur.
One would never have believed I hiked 40 miles on the Appalachian Trail a few years ago and am a regular hiker who enjoys backcountry camping.  Bless MY heart.
In more than a decade of Georgia politics, I've had the pleasure of sitting at tables of power that others may not have with both the House and the Senate.  I have watched the paths of policy and party emerge from a grassroots level to the fall of some mighty grasstops under Lt. Governor Taylor and Speaker Richardson.  I have been impressed with the larger vision of the present Governor and the efforts of the sitting legislative members to initiate justice reform, a transportation plan and now educational reform.  I've watched the rabbit holes of RFRA and the Guns Everywhere bill send the legislature in strange meandering paths so that I'm left wondering where are our markers?  What will be the footprints we leave for others to follow?  More importantly, if Georgia wishes to move forward, what tools will we employ to blaze new paths? Continue reading "Georgia: Trailblazer or Perennially Lost?" →