On a personal note….
I haven't written in some months due to the fact that life got in the way.  An engagement, a house renovation, a move that combined two households, a death of a grandfather, a near death and hospitalization of a grandmother, identity theft, vehicle theft, and loss of health insurance will do that to a woman….even Steel Magnolias bruise and bend.  Yet I am consistently like a bad penny: I just keep turning up and will continue to offer my opinions (for whatever they are worth to others) for as long as I am able.  I intend to spend the next little bit writing through all of the topics I have wanted to cover and yet did not have the time to do so in the last few months, so bear with me as I bear witness and I hope that I can offer insight/ explanation as we go along together.
And now back to the reason you're here….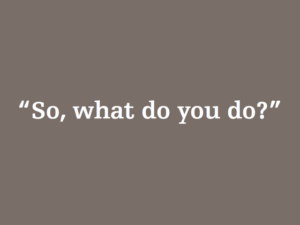 "What do you do?"
People ask this of one another because we search for common ground and for safe topics in small talk.  Alas, my job description usually isn't anything like that.  People see the term "political consultant" and "lobbyist" as a loaded gun, aimed at their rights, their perceptions of how things should be, or they see me as some sort of elite class.
I repeatedly have to tell them it's really not anything remotely like what you see on House of Cards. 
I am sincerely not powerful and my work is more on the side of being kind to everyone- even when they are not kind to me rather than passionately debating legislators or playing puppet master behind the scenes.  I am not debating that the Remy Denton types of lobbyists exist, I am just here to tell you: that isn't me.
I typically answer that question with a shoulder shrug and the factual statement, "I talk to people."  Many times before I have also asserted that I think a monkey could do my job.  To be honest, there are probably primates that are more fully functioning than a LOT of people in their jobs, but I digress…Now that I have had the fortune of meeting a number of people who are very book-smart but have zero ability to communicate effectively nor manage a filter on themselves, I have come to value my own diplomacy skills a bit better.  Not everyone can take rejection well, nor know they are being purposefully left out of conversations and still try to make a difference.
I would say these are my greatest gifts. 
Hearing "no" is simply part of the process.  Brush it off.  The more important question is always, "what will get you to "yes"?" Continue reading ""So…What do you do?"" →